MYZ: TechOver was the latest of Smart Futures' Careers Fairs which saw over 200 young people meet employers from a wide variety of sectors to learn how technology is used in different workplaces.
TechOver brought local primary and secondary schools, and colleges to Manchester Youth Zone to take part in our interactive careers fair. The majority of young people are very familiar with computers, mobile phones and social media. TechOver's hand-on activities gave them a unique insight into how technology can improve and re-imagine the workplace.
We had an incredible selection of activities and stalls for young people to get involved with. They got to see loads of fantastic new technology in action, including drones, virtual reality, and 3D printing.
Young people also had the chance to speak to professionals about how this technology it is used in different jobs. For example, Metrolink use simulations to train new tram drivers on different routes in Manchester and 3D printing can be used in healthcare to print models or prosthetic limbs.
[ngg src="galleries" ids="25″ display="basic_slideshow" gallery_width="1000″ gallery_height="500″ show_thumbnail_link="0″]
TechOver Crew
MYZ: TechOver wouldn't have been as much of a success without the help of our Work Experience students from The Manchester College!
Four IT students from the college worked with us for 6 weeks to develop their own stall at TechOver. Microbits are a fantastic tool for children as an introduction into coding, and are versatile enough to program games for anybody's tastes.

The TechOver Crew used these Microbits to develop a target practice game. They programmed the Microbits so that whenever they were struck with enough force, they would allocate the player a point. The Youth Zone just happened to have some Nerf guns handy (productivity took a bit of a dip that day) which were ideal for shooting the Microbits!
The target practice game worked well at the TechOver event, as younger children enjoyed the simple competition, and it helped introduce them to simple coding. The young people with the highest scores on the game received their own Microbits to take home as a prize – kindly donated by UK Youth!
Another part of the TechOver Crew's work experience was to present their game to a panel from TogetherMoney a week before the event, and explain their roles for TechOver. This was a great opportunity for them to practice their presenting and public speaking skills, as well as have Together staff playtest their game! We were all treated to a tour of Together's offices, and they had the chance to speak to their Head of IT.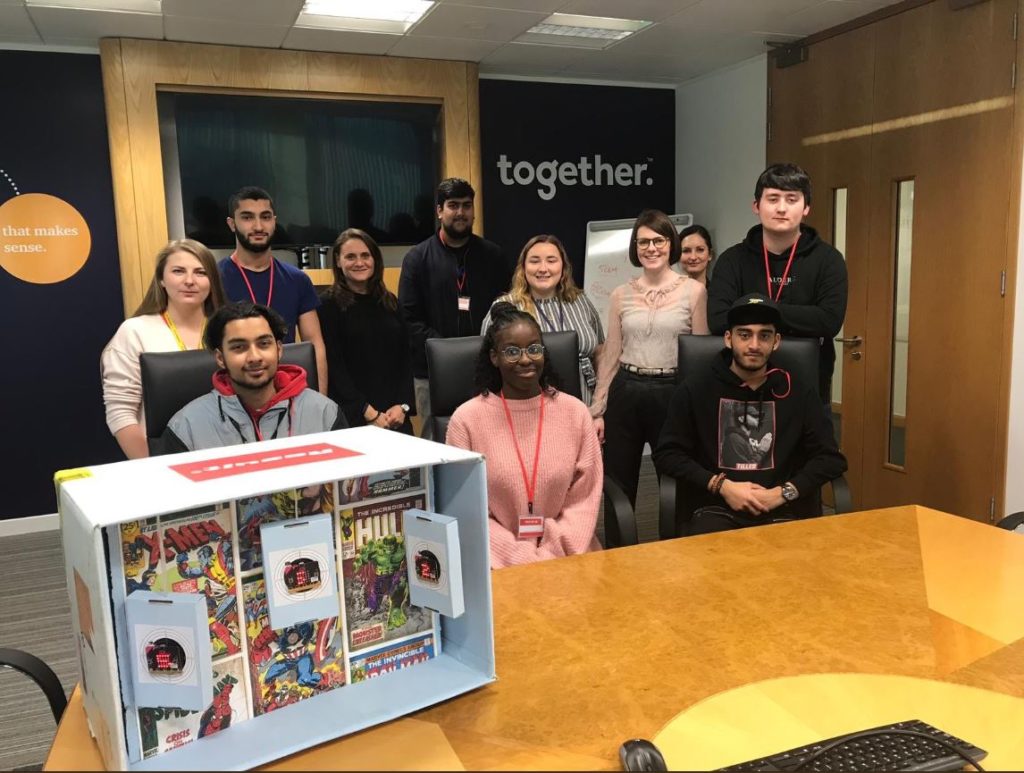 We also had a four Media students who gathered photographs for this article – as well as film footage and interviews. They will be using this footage to create their own short film about TechOver and the Smart Futures project. The video will go live in the next few weeks, so watch this space!
[ngg src="galleries" ids="26″ display="basic_slideshow" gallery_width="1000″ gallery_height="500″ show_thumbnail_link="0″]
You shouldn't be able to see this sentence.
We're incredibly proud that young people grasped this opportunity to learn more about technology in different sectors. The aim of the Smart Futures project is to raise aspirations of young people in North Manchester. Hopefully TechOver opened the doors for some of them to pursue technology in education and future careers.
Don't forget to follow us on Facebook, Twitter, Instagram and LinkedIn for all of your Manchester Youth Zone news and updates!
Special Thanks!
A massive thanks to the following employers who kindly shared their time to help inspire young people using technology:
Barclays Eagle Labs
CNi Solutions
e3creative
Freshrb
GM Higher
Hive
JD Sports & The JD Foundation
Joe Gallagher's Academy
Kier Construction
PwC
Metrolink
NHS
UCFB
Virtual Learning UK
Salford University's School of Arts & Media
Sharp Project
Studio OBI
Web Applications