[vc_row][vc_column 0=""][vc_column_text]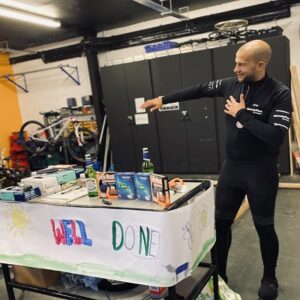 Whilst some heroes wear capes, others wear lycra. That's how MoneyPlus Groups Commercial Director, Jonathan Mills arrived at MYZ at 7am on Sunday morning ready to take on his MYZ100 challenge!
With the support of Ben Mills and Simeon Livesey, Jonathan cycled 100 miles across three counties and up numerous hills for a total ride time of 7.5 hours. It was no easy feat, and whilst there were times it probably seemed far easier to quit, the motivation kept coming as the fundraising total rose and he smashed through the £2500 target he had set.
After crossing the finish line Jonathan commented 'Not long after setting off, I realised I should have actually trained. It wasn't easy by a long stretch, but I couldn't let the Manchester Youth Zone down, so I powered through! I just want to say a huge thank you to everyone for their generosity on sponsoring so far – every penny really does count for this excellent cause.'[embedyt] https://www.youtube.com/watch?v=TODC7icc_w8[/embedyt]
CEO of Manchester Youth Zone, Richard Marsh, was at the Youth Zone as the team set off and added 'To meet Jonathan at 7am on a Sunday Morning all geared up to set off on his 100 mile journey demonstrates the commitment and enthusiasm of all those who support what we do at Manchester Youth Zone. It would have been much easier to stay in bed BUT instead, he set out to make a difference and invest his time into the support of MYZ. We are so grateful to Jonathan and to Ben and Simeon who joined him, along with everyone that sponsored him on this ride. As a Youth Zone, one of our core values is the inability to accept defeat, and that's something Jonathan valiantly demonstrated on Sunday.'
And the good news is, its not too late for you to get involved in our MYZ100 challenge either! Its running right through till Christmas, and all you need to do is pick your challenge, setup your fundraising page, and off you go… you could cycle like Jonathan, bake and sell 100 cupcakes, run 100 miles between now and Christmas – the possibilities are endless.
Why should you get involved in MYZ100? Well this is what inspired Jonathan…
"Over the past few years, I have been involved with MYZ on a number of occasions and every involvement has humbled me and inspired me to do more. It's not just a place for children to go and play, it's a place that impacts and changes the lives of both young people and the families they work with. Having seen this impact first-hand, I decided I wanted to push myself and play my part in helping the community of a city I work in"
Download the information pack here: MYZ 100
[/vc_column_text][/vc_column][/vc_row]