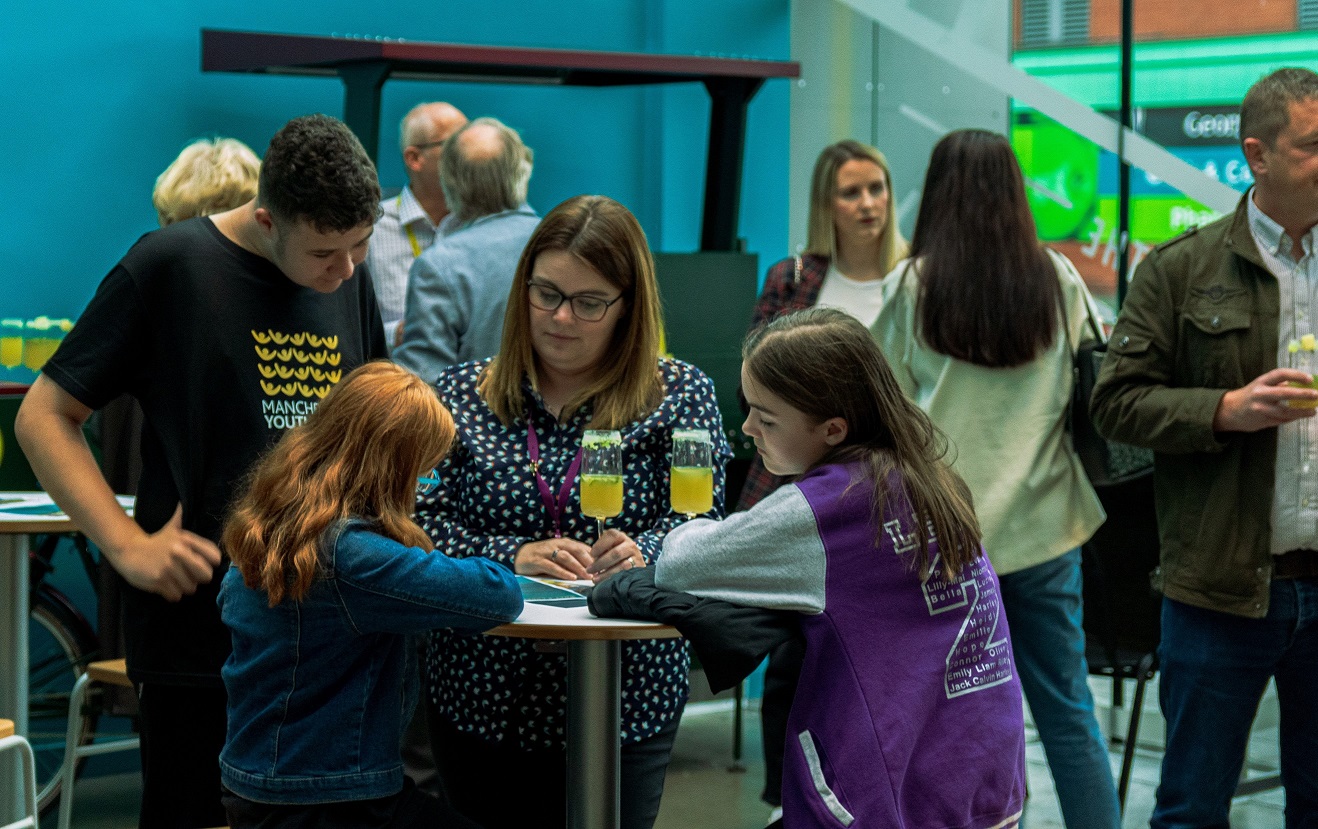 WOWOWOW – events are back at MYZ!
After 18 long months of restrictions and zoom calls, we were delighted to be able to properly reopen our doors to the people who make it possible for us to do what we do. Susan, one of the young volunteers of the evening said "I have two homes, my actual home and Manchester Youth Zone"
and this is only made possible thanks to our incredible supporters.
The young person led event was a great chance for us to say thank you for the incredible support we have received over the past 18-months and to showcase our newest space, the Learning Kitchen, funded by Fusion21 and The Guinness Partnership.
At MYZ, success and achievements come in all shapes and sizes and the evening was a fantastic way of showcasing that and giving young people a space to thrive in their own ways. 
Starting in our lantern space, guests were provided with mocktails and canapes made and served by some of our members using garnishing from our allotment. Young people who have set up businesses through our Makers Space were also able to use the opportunity to showcase their products and 'plug' their brands.
After going through to the main space,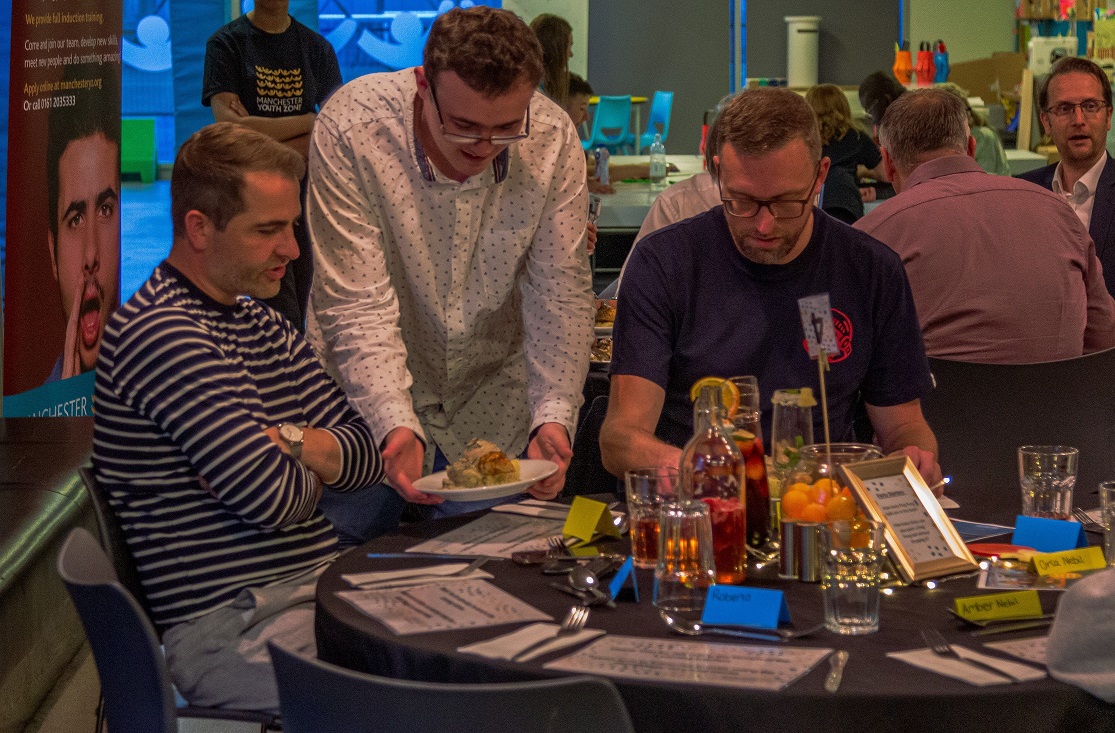 guests were welcomed by our new CEO, Amanda who then handed over to our resident comedian and inclusion member, Kane. His 'stand up, sit down' routine brought laughter all round and made sure that there was a smile on everyone's face as dinner was served.
Speaking of dinner, again with young people taking control, Elli-Mae and Vilte, two of our Young Leaders, have spent the last couple of weeks doing menu creation and matching up dietary requirements as they prepared to take the reins in the kitchen. Assisted by our Food and Enterprise Worker Dan, the girls blew everyone away with their skills.
Even service was done with a smile with each table being hosted by a young person who spent time speaking to guests, were responsible for serving and clearing courses and of course… assisting them with their surprise challenge!

Led by Senior Inclusion Member, Joseph – each table was provided with an egg and various equipment and given the challenge of providing it with enough support that should it fall (/be dropped from our 20 ft mezzanine), it still survive (the perfect metaphor to how MYZ support young people – there are times they may fall, but we're here to support them through the good and bad).
*Shout out to challenge winners… table 2!!*
After all the fun/shouting/'friendly' competition, it was back to tables for dessert before being introduced to the one and only Roshay. An incredibly talented young person who is not only a fantastic rapper and artist – she has also been working with the Careers and Enterprise team on developing her business and becoming a fully licenced tattoo artist. Roshay is an absolute inspiration and spoke so clearly and articulately about her journey through MYZ, how the support has helped her, and now what she plans for the future.
Finally, we'd just like to say a huge thank you to our keen photographer, Jake. He's had a passion for media and photography for as long as we can remember and it's been an absolute pleasure watching his skills develop over the last few years!
We are so grateful to everyone who braved the Manchester weather and joined us. Events are officially back at MYZ, and we can't wait for the next one now!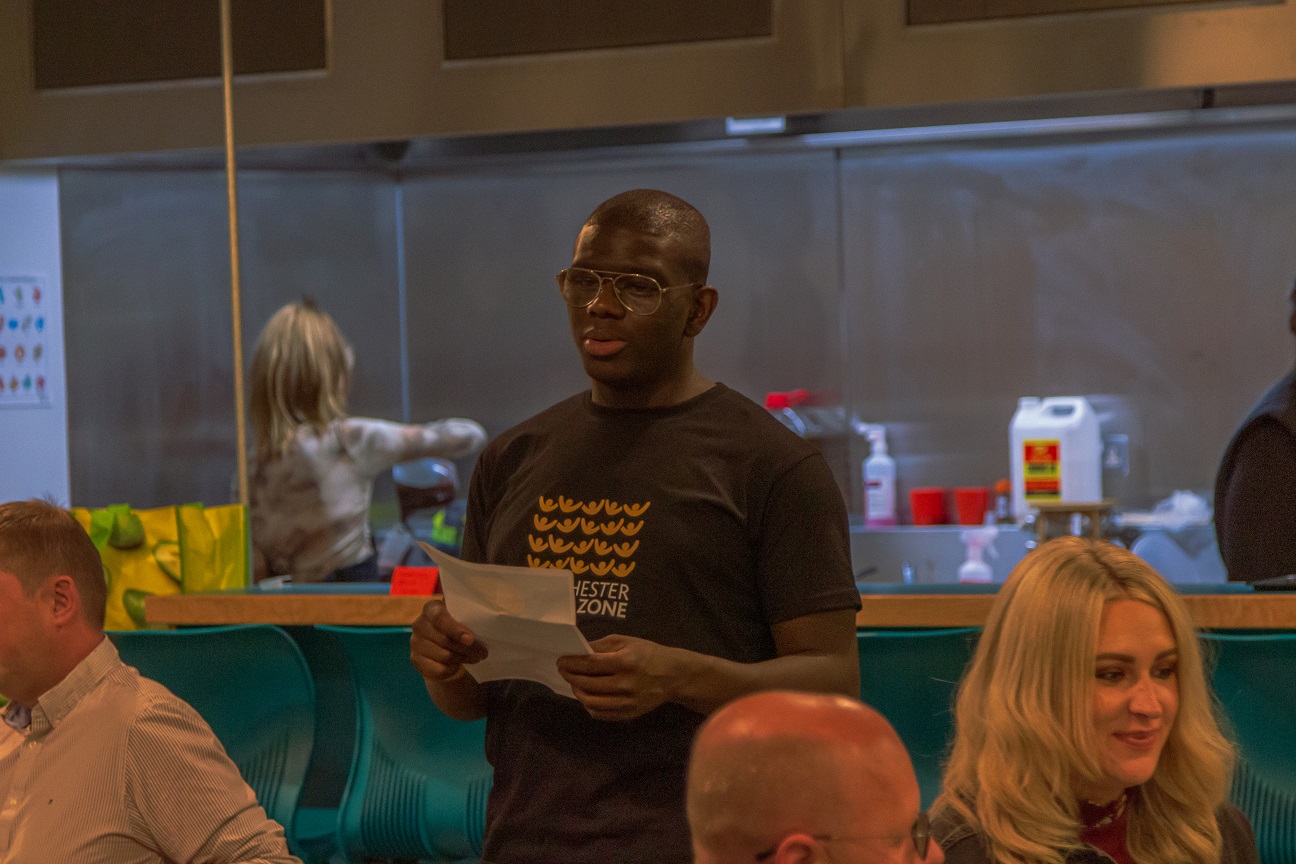 To find out more about Shay's work, you can head to http://artaddictt.weebly.com/.