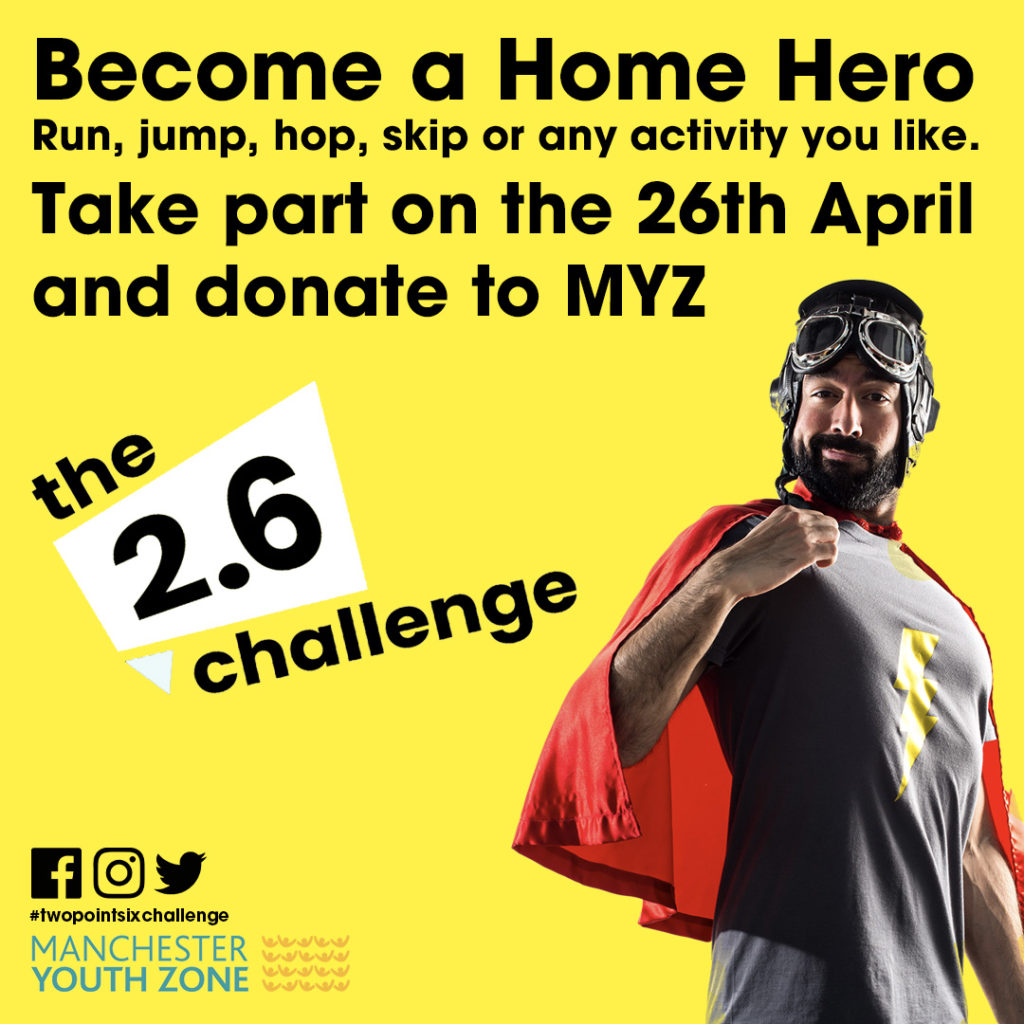 Dream big and become an #MYZHomeHero by taking part in the 2.6 Challenge to help raise money for Manchester Youth Zone.
With new government measures, invitations are rare these days but Manchester Youth Zone want to invite you, your friends, and your family to get involved in something huge! On Sunday 26th April, we are taking part in the 2.6 Challenge, and we want you all to be a part of it, becoming an #MYZHomeHero and helping us to continue to support our young people.
We rely on donations to be able to offer our exceptional service, and the current COVID crisis has led to a fall in funding of over £300,000 and that number continues to grow. The 2.6 Challenge is not only fun, and a way to be a part of something bigger than your own four walls – it's a way to help save UK charities like Manchester Youth Zone.
Dream up your 2.6 challenge – we've even put together a video below to help your imaginations run wild!

Either donate or set-up a fundraising page for Manchester Youth Zone

here – whatever you can afford, however big or small, your donation will make a difference!

Ask all your friends and family to sponsor you and challenge them to do their own 2.6 Challenge

Complete your challenge!

Share a photo or video of your challenge on social media with #TwoPointSixChallenge #MYZHomeHero
If you're not able to take on a challenge, or share with friends and family, we have a team of young people who will be completing their own virtual marathon each running 2.6 miles, who we know would be encouraged by your sponsorship!
So are you ready to give it a go? Ride a bike for 2.6 miles, write a story that is 2.6 pages long, go without your phone for 26 hours or do a plank for 2.6 minutes. The options are endless, the only ask is that you stick to the current government guidelines on social distancing.
To get started, you can download our toolkit here, and don't forget to tag us across our social media platforms and use the hashtag #MYZHomeHero to show the world what an amazing thing you are doing!
Good Luck!!