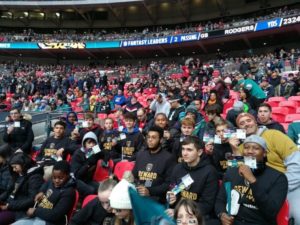 The Jacksonville Jaguars invited five of our Senior Members to Wembley Stadium in London to watch their NFL (American Football) Game against Houston Texans on Sunday 3rd November.
These young people were part of the Jag Tag Programme with with Active Communities Network here at Manchester Youth Zone. Alongside ACN, we delivered a 30-week programme designed to bring American Football to the Youth Zone.
As a reward for their commitment to the programme, the Jags donated 5 free tickets to their game at Wembley. Not only did we take our young people down to the game, three of our Young People went on to play for the Manchester Titans American Football team.
Ben Herriman, Sports Coordinator at MYZ said "I would like to thank The Jacksonville Jaguars and ACN for making it possible to deliver an American Football programme at the Youth Zone and providing us with the opportunity to go to Wembley and watch the game, a first for myself and the Young People."
Simon, a Senior member at MYZ: "Sunday was an amazing day, it was great to be able to go to Wembley and watch the American Football Game!"
Ruby, a Senior member at MYZ: "The atmosphere whilst watching the game was really good. The seats were good as we were sat really close to the pitch which were good for some great photo opportunities. It was amazing to watch the game for the first time, it helped me learn a lot of new things which I can take into my own game."
Declan, a Senior member at MYZ: "It was amazing because I've never been to a game before. It was a long day but totally worth it, and I am glad I got involved in the Jag tag programme which has now helped me to play competitively in American Football."