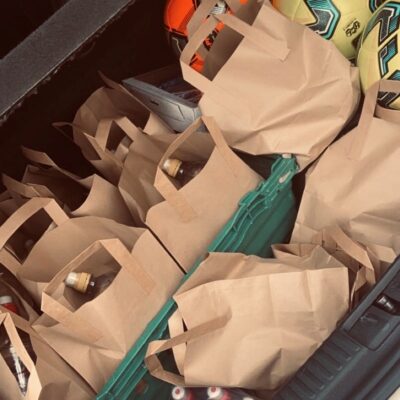 Children's charity Manchester Youth Zone has responded to local lockdown measures by adapting its fundamental Holiday Club programme. The programme funded by Manchester business CarFinance 247, aims to help tackle holiday hunger in North Manchester, an area which sees over two thirds of children receiving free school meals during term time. This project, and the impact it has within the local community, was a key to Manchester Youth Zone winning 2019's title of North West Charity of the Year.
From footballs to clothing, games to books, and pasta to fresh produce, just under 400 'MY Zone' packs were put together in the first week alone and delivered to families by the Youth Zone's Youth Work team. These packs not only provided a lifeline to some families, but also allowed the team to check-in with both young people and parents to see how they could further assist – the response has been overwhelming.
Mum of 2, Sarah says "thank you so much for the pack delivered, I can't tell you how much it means to have their lunches taken care of" with Mum of 3, Faye adding about the activities "it's been the first time in weeks they have actually sat together and done something without arguing and name calling!" really showing the impact of the work Manchester Youth Zone is doing to tackle holiday hunger, made possible by CarFinance 247.
CEO of Manchester Youth Zone, Richard Marsh, adds "when we first launched our holiday club back in 2018, we saw the profound need, and knew that it was something we needed to continue and expand on – we are so grateful to CarFinance 247 for enabling this to happen across 2020 – with the additional impact of COVID-19, the holiday club is now more important than ever. This was a project CarFinance committed to support long before we'd heard of COVID-19, their continued support highlights a positive legacy of the current situation – one of philanthropy and leading by example in times of crisis and beyond.
Unfortunately, we know that home is not always a happy place for young people and for many, who have not been able to attend school since March, holiday club will also be the first time they have been able to mix with their peers."
From next week, Manchester Youth Zone aims to be able to open its doors for holiday club once again and has a daily schedule lined up with activities ranging from arts and crafts to hockey and BMX rides to Drama. All activities run by the Youth Zone will adhere to COVID-19 guidance and additional measures such as temperature checks, hand sanitiser stations and maximum group sizes have been put in place.
If you are interested in finding out more about Manchester Youth Zone or how you can support their work, please contact Hannah Wright, Head of Development.
Press release 6th August 2020 – Written by Kirsty Peters
To speak to our Communications Manager, please email Kirsty.Peters@manchesteryz.org