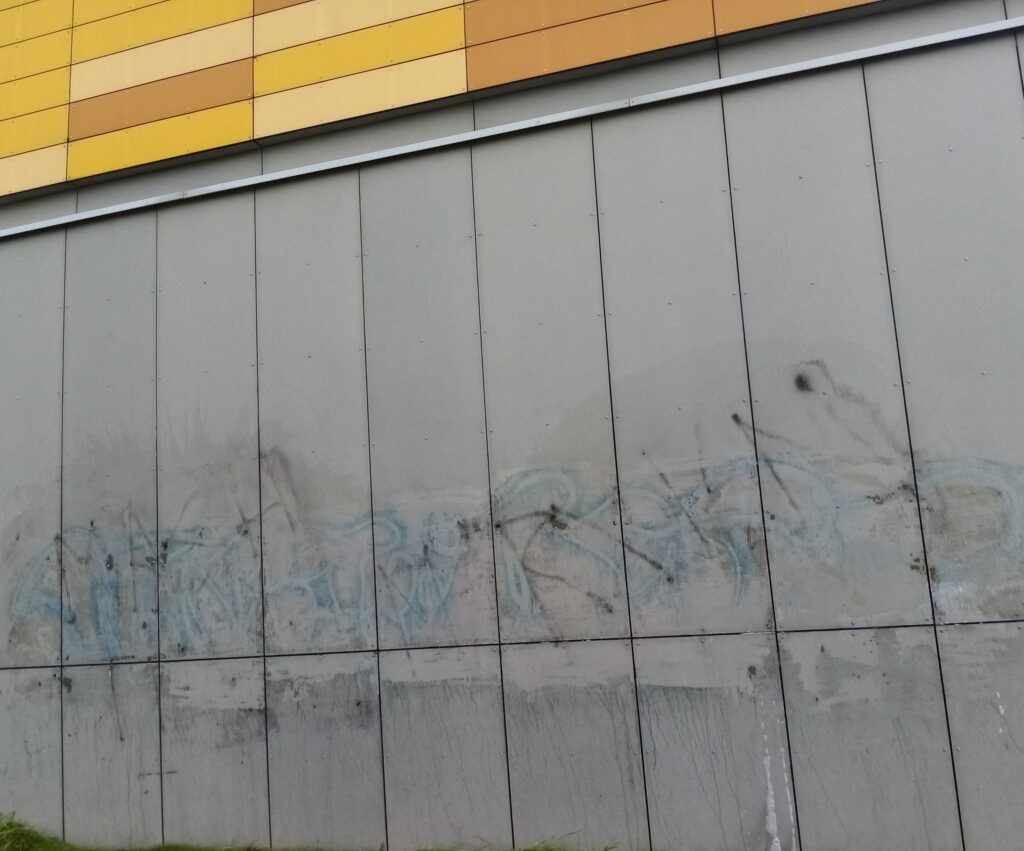 North West Charity of the Year, Manchester Youth Zone (MYZ), has become victim to senseless vandalism over the weekend. Graffiti sprayed on the side of the purpose built centre, situated in the heart of the community in Harpurhey, which in normal times, welcomes around 1,000 visits from young people a week, will leave vital funds diverted to the cost of its removal.
Manchester Youth Zone, like many of its peer organisations in the third sector, has been hit two-fold by the pandemic – firstly in the decimation of fundraising opportunities, which it relies on to operate, and secondly, in the rise of demand for its services. MYZ believe that whilst talent is evenly distributed, opportunity is not. Since its beginnings in 2012, MYZ have had one simple belief, that all young people should be able to access the same opportunities – and work hard to ensure the most vulnerable young people in Manchester receive the right quality support. The timing of this graffiti is particularly difficult for the organisation that is having to make significant changes to what it is able to offer the young people aged 6-19 and up to 25 with additional needs, that benefit from its services.
CEO Richard Marsh said of the incident "This is our first week back up and running, following continued limitations on the number of young people in the building. Staff, volunteers and young people alike have been working towards this date for a number of weeks, hoping that the time would come to be back in the building and enjoying taking part in the sessions on offer. This certainly casts a shadow of disappointment – and is incredibly disheartening at a time when every penny raised should be being spent on ensuring young people that need us most are receiving our support. Whilst this may seem insignificant and harmless, the messaging behind the graffiti is certainly worrying, and it undoes the work put in to ensure that young people are proud to be a member at Manchester Youth Zone.
Saying that, Manchester Youth Zone is more than just a building, we talk about #MYZMagic, and that is created by the young people, staff and volunteers and is something that will continue to spread regardless of a minority who can find no other platform to share their views than graffiti on the side of a children's charity. Whilst extremely disappointing, we are thrilled to be back doing what we do best – providing young people with the tools to raise their aspirations, enabling them to choose a positive, independent lifestyle by offering 'Somewhere to go, something to do and someone to talk to.'"
Police are aware of the issue and are understood to be looking into the incident.
To find out more about the work Manchester Youth Zone does, visit www.manchesteryz.org or to make a donation visit: https://www.totalgiving.co.uk/donate/the-manchester-youth-zone-limited
To find out how you can support their work, email Hannah.Wright@manchesteryz.org