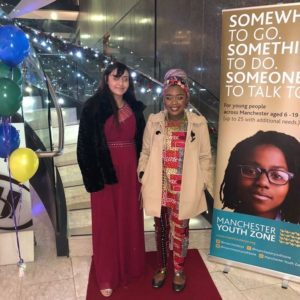 Supported by companies across the City and beyond, the annual
Manchester Ball
once again took place on Friday 8
th
November.
2019 marked the 32nd anniversary of the ball, an independent fundraising dinner which donates 100% of its proceeds each year to a local charity. During this time, it has raised an astonishing £600,000 for charities across the City.
Over the past 6 years, The Manchester Ball has generously chosen us as its beneficiary charity and has raised an astonishing £192,580 for us in that time. Last year's contribution went towards funding our Junior Choices programme, a programme that was a key contributing factor in us being awarded 'North West Charity of the Year' for 19/20.
This year, The Manchester Ball also extended its support to the latest Youth Zone opening in the city – HideOut. The night
was a brilliant success and a huge £53,000 was raised on the evening to be split evenly between ourselves and HideOut, ensuring thousands of young people across Manchester have 'somewhere to go, something to do and someone to talk to'. The benefits of this event reach far beyond the monetary donation – and we acknowledge the huge value in the awareness and profile raising and relationship building element too.
Paul Chorlton and Phil Derbyshire, organisers of The Manchester Ball, said "It is a huge honour to host The Manchester Ball, and to receive such fantastic support from local businesses and individuals. We would like to thank everyone who has helped make this year such a fantastic success. It has been an honour to play a small part in supporting young people to shape and fulfil their potential."
Richard Marsh, Chief Executive from Manchester Youth Zone, said "We cannot thank The Manchester Ball and its organisers, Paul and Phil, enough for their phenomenal support of young people from across Manchester and a huge thank you to all of the supporters from the local business community, whose support on the evening really will help to change the lives of young people."
The evening also saw two of our brilliantly talented young people perform, adding to the entertainment on the night and providing them with the fantastic experience to sing in front of an audience of over 340 people, at aged just 14 and 17. A huge well done to Amelia and Hannah for really spreading that #MYZmagic!