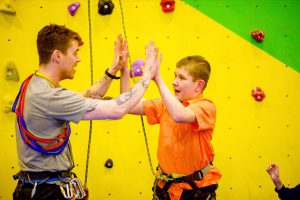 Inclusion Sessions
Offering activities every Friday between 4pm and 6:30pm for young people with additional needs. The session is open for both new and existing members.
The sessions are great for welcoming new members to the centre as they will be in a smaller group where they can build relationships with staff and other young people as well as getting used to the centre itself. Once comfortable, young people will be able to make an easier transition in to Junior or Senior sessions, should they wish.
It's a fun filled, active session that includes a range of activities such as football, use of the gym, multi-sports and chill-out sessions in the rec. If you're interested, you can book online using this form.
When a young person with additional needs signs up to become a Member, they and their parents/carers will be invited to have a brief discussion with Corrina, our Inclusion Manager.
This meeting will be an opportunity for young people and parents/carers to ask questions and see how attending Manchester Youth Zone is both safe and enjoyable. We will also establish how the Youth Zone can best support the young person in regards to any additional needs they may have.
It is important to note that the Manchester Youth Zone is unable to offer professional 1:1 support to young people attending activities. However, we do allow families to organise a support worker or carer to support their young person. Any support workers or carers must complete an enhanced DBS check before attending any sessions.