Become a Member / Renew Your Membership
Young people aged 8-19, or up to 25 if they have additional needs, can sign up to become a Member at Manchester Youth Zone!
If you'd like to join and gain access to a wide range of fun activities and projects, or want to renew your membership,  click the Sign Up! button or pick up a form at Reception.
(If you're under the age of 14, you'll need a parent or guardian to complete and sign the form for you)
Our Junior Sessions are currently operating on a 'first come, first served' basis and cannot be booked in advance. If you are looking to attend a 11-14 or Senior Session, once signed up, click the Book a Session! button to see our available sessions and activities.
At the moment, please only book one session per day so we can offer sessions to as many people as possible!
Full Timetable
From 22nd September 2021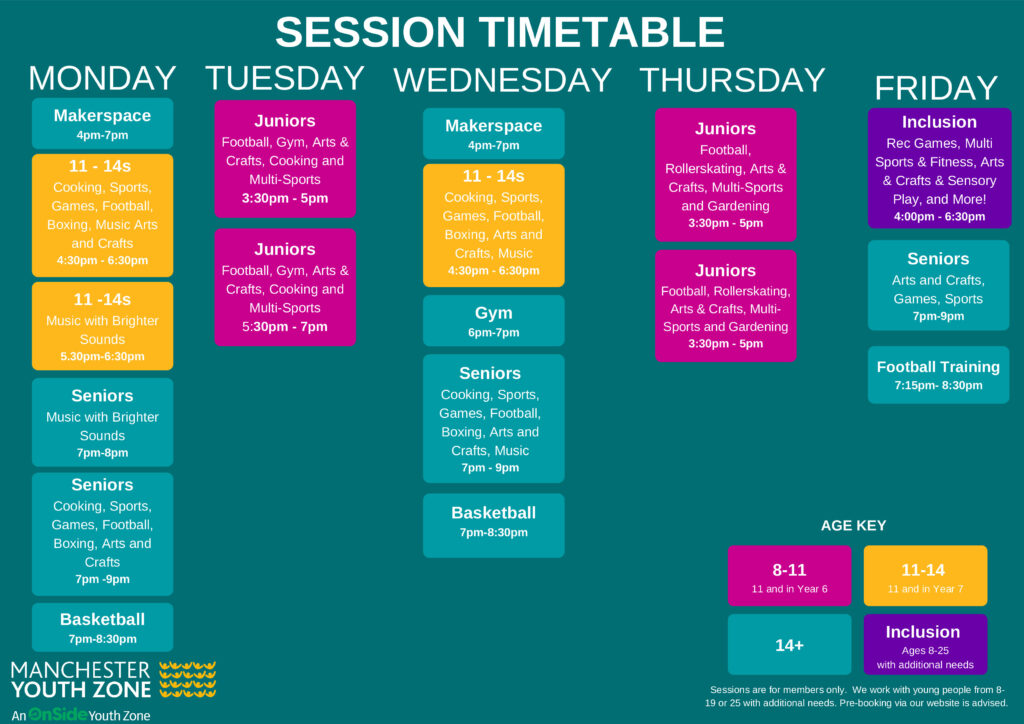 Juniors Timetable (Ages 8-11)
Seniors Timetable (Ages 11+)
At the moment – during lockdown – we are only running limited capacity sessions for Members to make sure everybody is as safe as possible. 
For this reason, all sessions and memberships are free!
Do I have to live in Harpurhey to be a Member?
Short answer: Nope! 
You can live anywhere in Manchester – or even beyond – and be able to access sessions at Manchester Youth Zone. Some of our Members from other countries visit their family during school holidays and join us!